Programme for the Children, Mobile Phones and the Internet Experts' Meeting
at the Mitsubishi Research Institute, Tokyo, March 2003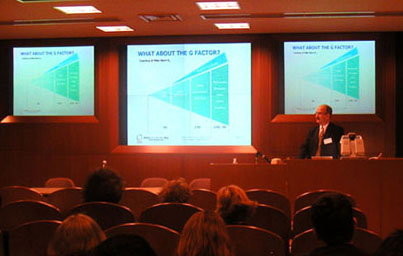 Download the full conference proceedings here (PDF:424KB)
Day1: Thursday 6th March 2003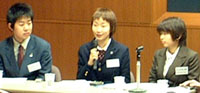 What kids say:

Japanese kids

, discussing their use of mobile phones
Respondent -

Nigel Williams

:Childnet International, UK
How to understand this new technology and its use by children in the context of other technologies - Academic perspectives:
---

"Media on the Move: a Research Perspective

[PDF:736KB]

"


Professor Kirsten Drotner,

:USD Odense University, Denmark
---
"Children and Mobile Technology - the Japanese Experience

[PDF:1.6MB]

"


Professor Masanao Takeyama

:Musashi Institute of Technology, Japan
---

"Constructing a Specific Culture: Young People's Use of the Mobile Phone As a Social Performance

[PDF:48KB]

"


Dr Andre Caron

:University of Montreal, Canada


Jane Tallimm

of Media Awareness Network Canada gave a broad outline to Andre Caron's presentation and research as Dr Andre Caron was unable to attend this meeting due to health reasons.
---

Respondent -

Professor Sonia Livingstone

:LSE, UK
Discussion/questions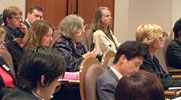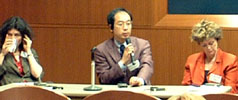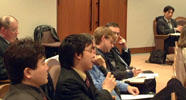 Future Use:
Trends in technological development of mobile devices and services as they may affect children
---

1. The Japanese perspective -


"View on Evolution of Mobile - Phone Usage

[PDF:2.8MB]

"


Yutaka Yasuda

:KDDI, Japan


---

"Ethical principles for mobile internet services and i-mode contents

[Non disclosure]

"


Hideaki Nagata

:NTT DoCoMo , Japan


---

2. A European perspective -


"Mobile trends as they might affect children - a European perspective

[PDF:112KB]

"


Angus Cormie

:O2, UK


---

3. A Global perspective -


"Child Protection On the Mobile Internet

[PDF:3.1MB]

"


Linda Criddle

:Microsoft, USA

---

Respondent -

Professor Kenji Naemura

, Keio University
Discussion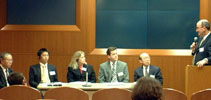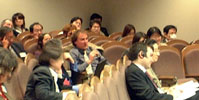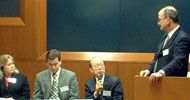 "Welcome Party"
Message from Seiko Noda,Member of the House of Representatives





Day2: Friday 7th March 2003
Challenges and Opportunities:
What potential positives and negatives to children are offered by this new technology?
---

"A broadcaster's Perspective

[PDF:4MB]

"


Greg Childs

:BBC, UK
---
"Mobile technologies and Helplines

[PDF:296KB]

"


Ute Navidi

:Childline, UK
---

"The U.S. Perspective

[PDF:476KB]

"


Larry Magid

:Technology journalist and founder of SafeKids.com
Challenges and Opportunities (continued)
---

"Dating Sites and the Japanese Experience

1 [PDF:3.7MB]

/

2 [PDF:412KB]

/

3 [PDF:8KB]

/

4 [PDF:8KB]

"


Yasumasa Kioka

:National Police Agency, Japan
---

"Children, Mobile Phones and the Internet

[PDF:556KB]

"


John Carr

:NCH, UK
---

"Mobile Phones, Young People and Consumer Protection

[PDF:16KB]

"


Denis Nelthorpe

:Consumer's Federation of Australia, Australia
---

Respondent -

Tronde Waage

:Ombudsman for Children, Norway
"Challenges and Opportunities

[PDF:1.5MB]

"
Discussion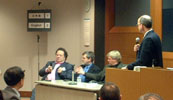 Regulatory and self-regulatory responses:
What are the potential or possible responses, both regulatory and otherwise, to the issues impacting on children?
---
"The potential for labelling and filtering of content on mobiles

[PDF:192KB]

"


Akio Kokubu

:Internet Association Japan, Japan

---

"Contact, Content and Cost

[PDF:24KB]

"


George Kidd

:Director of ICSTIS, UK
---

"A European approach

[PDF:104KB]

"


Richard Swetenham

:Safer Internet Action Plan, European Commission, Luxembourg
---

Respondent -

Professor Bernard Tan

:Chairman of National Internet Advisory Committee, Singapore
Discussion/questions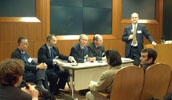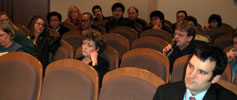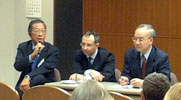 Conclusion of the meeting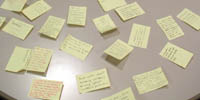 RESPONSES


Question 1: What is the main action point YOU will want to take as a result of this meeting?
Question 2: What is the most important issue you feel needs attention?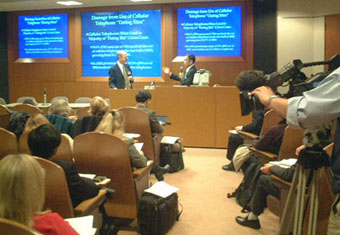 ---
Back
Copyright (C) 2003 Internet Association Japan